Discussions are a critical aspect to the success of any online community. With a platform that allows for one to one interaction with like-minded people, that's where members truly begin to identify with the community.
If a community made up of highly engaged members is a roaring fire, the role of the community manager is to be the spark. Their task is to create the conditions that allow for connections between members to take off, and let the rest run its course.
"You want to aim for that point when your site will be able to run itself," says Reddit's former Community Manager Erik Martin. "Even if you are managing a young community where you play the most active role responding to people, the ideal is always to develop other community members as experts who can answer questions and manage threads."
In this blog, we share 8 topic ideas to help you kick-start discussions in your own online community. Each of these discussion themes is informed by our own community's interests. We've also featured some inspo from a few of our customers' community hubs, as well as our own.
Welcome
When someone first joins your community, it's important they feel like you haven't just dropped them into the middle of the ocean without a lifeboat. The first thing new users should encounter is information on how to navigate the platform, and what the community guidelines are.
Esker does this exceptionally well in their community Esker All Access, by pinning important onboarding information to the top of their discussion board where new users are most likely to see it.
New community members find all the information they need to get settled when they first login.
Another important aspect of the onboarding experience is bridging the gap between new and experienced users. Establishing connections early will help new members form the community ties that will keep them coming back.
A great way to facilitate this is by starting a thread where members can talk about what brings them to the community, what they like to do in their spare time, and fun facts about themselves. Esker's community manager Amanda Samuel created an "Introduce Yourself" thread and opened it to both new and established members, in order to promote new acquaintances.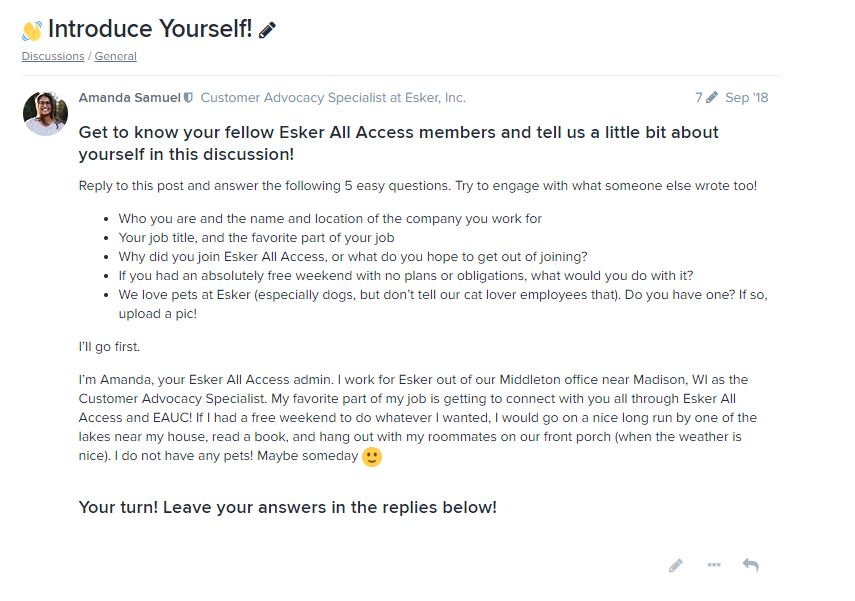 Members of Esker All Access have the chance to introduce themselves on this fun discussion post.
News
A core use for the discussion feature within an online community is to share relevant news with users. This is especially useful when using a community platform for employee engagement, as you can easily share company-wide messages by leveraging this channel.
For Cision, these can include news on a newly available content piece, or updates on what's going on at the company or in the industry.
Cision's community manager Melissa Meyer highlights new content in the "Cision News" discussion category.
Keeping community members informed on the latest happenings in their space ultimately benefits community managers and the community itself, since individuals will be in a better position to provide valuable contributions. Additionally, delivering on this value will encourage members to continue to engage and move along that engagement ladder to become contributing members of the community.
Events
Another great use for discussions is to draw attention to upcoming events, either hosted by you or others within your community or industry. This is something we frequently do within our own customer community, Influitive VIP, to get a pulse on who we might expect to see at upcoming conferences and meetups.
We asked our community if they planned on attending the 2019 Adobe Summit.
You can also highlight smaller events such as upcoming webinars. In using discussions to point to events of potential interest to your community, you're likely to nab a few more attendees while also contributing to community members' networking and professional development.
Best Practices
A great way to get customers excited about your product is to show them how to use it to its fullest potential. After all, who knows your product better than you? In providing your customer community with tips and tricks collected from having lived and breathed your product, you can also avoid future potential support questions.
SchoolMint's customer community, Homeroom, features discussions where both admins and customers can chime in on how to get the most out of their product.
SchoolMint's community manager Jessica Mitchell shares great tips on using their product and encourages others to share.
Thought Leadership
What differentiates each online community is the unique brand of expertise its members all bring. Discussions are a great place to feature this expertise with thought leadership posts. As a presumed leader in your space, you're in a unique position to share knowledge informed by reputable experience.
Melissa Meyer, who manages Cision's online community Cision City, leveraged discussions to share industry insights in a visual and easily digestible format. Her post saw significant engagement from community members who found it really helpful.
One member even commented how she was "mind blown" by this methodology she had never encountered before, and was excited to implement it with her own team.
Melissa shared some industry insights with her community in this easy-to-read list format.
Product Updates
Some product updates won't necessarily be relevant to all of your customers, but those who will be affected tend to use those features day in and day out. That's what makes dedicating a section of your discussions to these updates the best way to get the word out — you're not inundating all your customers with information they might not need, while also providing those who are affected by the updates with a sufficient explanation of what's happening.
We use discussions within Influitive VIP to communicate our product updates and feature releases. It's also a great forum for customers to provide feedback on their experience of new features or updates once they've had a chance to interact with them. Our larger product team monitors these threads and can clear up any questions from customers then and there.
We give our community short updates on any changes to the product or new feature releases.
Product Feedback
For collecting more detailed product feedback, you can also create dedicated discussion posts within your customer community, prompting customers to answer specific questions, or discuss their ideas on what improvements or additions they'd like to see in your product. Features like polls and targeting (handy for creating user groups) make this process even simpler.
A community of customers who are invested in your product and brand is a goldmine for your product development team, since you know you can trust their insights as they come from a genuine place.
ON24's Customer Marketing Manager Tiffany Beddow manages the Webinerd Network, ON24's customer community. She keeps track of the community's product ideas forum, one of the most popular discussion threads. The topic goes back all the way to 2016 and still gets regular engagement.
To learn how else ON24 is able to effectively collect product feedback with help from their customer community, you can read more here.
ON24 gives their customer community a place to share product feedback and ideas in this discussion thread.
Fun
Being a great community manager also means making time for fun. This is where you can go a little wild — use gifs, emojis, share images and videos. Getting people talking about topics that aren't directly related to work helps reinforce social connections, makes it easier for "lurkers" to participate, and gets members emotionally invested in the community.
Take this adorable example from Esker, where employees were asked to turn the spotlight over to their furry companions.
This fun discussion prompt lets community members get to know each other's pets.
One member shared this particularly adorable snapshot of their dog Benson.
Author: Dionne Cheong, Influitive.
This article was originally posted by Influitive. To view the original, Click Here.